Red Velvet Cupcakes with Cream Cheese Frosting. Classic red velvet cupcakes with a luscious cream cheese frosting. Red velvet cake is classic Americana cooking with Adapted into little red cupcakes and topped with a dollop of cream cheese frosting, they make for a colorful and tasty dessert for late winter picnics. Ha – apparently, my friends and I cannot. 🙂 I ended up making two batches of red velvet cupcakes to take to a handful of events with friends this And then for those like me, hearing anything having to do with "cream cheese frosting" just seals the deal.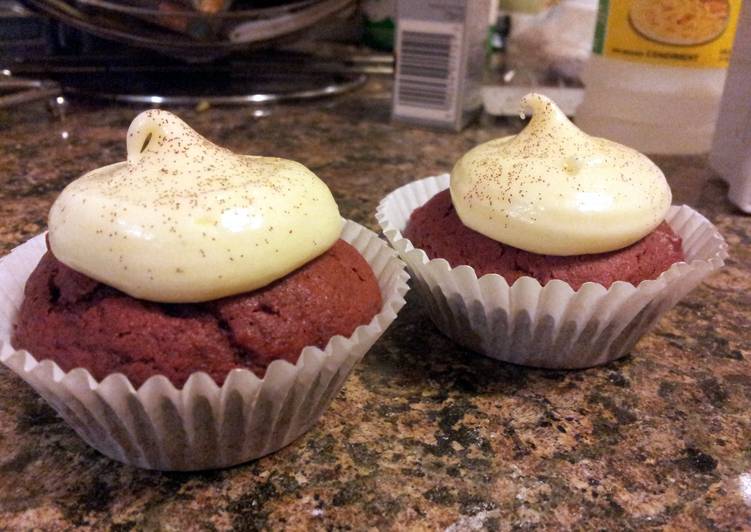 Unlike many red velvet cake recipes, this cupcake from San Francisco pastry chef Elizabeth Falkner is about so much more than the bold color: it's packed Allow the cupcakes to cool completely on a wire rack. Make the frosting and frost the cupcakes. In a clean bowl, add the butter and cream cheese. You can cook Red Velvet Cupcakes with Cream Cheese Frosting using 17 ingredients and 14 steps. Here is how you cook that.
Ingredients of Red Velvet Cupcakes with Cream Cheese Frosting
Prepare of Sponge.
Prepare 60 grams of unsalted butter.
It's 140 grams of caster sugar.
It's 1 large of egg.
It's 1/4 tsp of vanilla extract.
You need 4 tbsp of red food colouring.
You need 1 pinch of salt.
You need 30 grams of unsweetened cocoa powder.
Prepare 225 grams of all purpose/plain flour.
Prepare 120 ml of buttermilk.
You need 1/2 tsp of cider vinegar.
Prepare 1/2 tsp of baking soda.
You need of Frosting.
It's 25 grams of salted butter.
Prepare 125 grams of cream cheese.
Prepare 1/4 tsp of vanilla extract.
You need 125 grams of confectioners/icing sugar.
This recipe for red velvet cupcakes includes an easy cream cheese frosting. The beautiful cupcakes are topped with a creamy cream cheese frosting. Creamy frosting doubles as a surprise filling in rich, red velvet cupcakes. In a medium mixing bowl, sift together the flour, sugar, baking soda, salt and cocoa powder.
Red Velvet Cupcakes with Cream Cheese Frosting step by step
Makes 12 cakes.
Preheat oven to 180°c/350°f/gas 4.
Line a 12 hole cupcake pan with paper cases.
Using an electric mixer, beat the butter and sugar until pale. Slowly add the egg until well incorporated.
In a seperste bowl beat the vanilla, colouring, salt and cocoa into a thick paste and beat into the butter mixture.
With the mixer on a slow speed, add the flour and buttermilk alternating each and begining and ending with the flour.
Stir the vinegar into the baking soda and fold into the mixture.
Leave to stand for 3 minutes.
Spoon the pan into the paper cases to 3/4 full.
Bake for 15 minutes or until a knife comes out clean.
Cool on a wire rack.
To make the frosting: beat the butter and cream cheese together until there are no lumps.
Add the vanilla and gradually add the sugar.
Either use a piping bag or a spoon to decorate your cakes once cool.
Garnish with chopped pecans and a fresh raspberry or strawberry. Sift in half the powdered sugar and beat to combine. Use a wooden skewer and more red food coloring to decorate to your liking. With gorgeous red color, these super moist and fluffy Red Velvet Cupcakes topped with luscious swirls of cream cheese frosting are simply delicious. Their Red Velvet Cupcake is simply irresistible.