Vickys Carrot Cake Cupcakes, GF DF EF SF NF.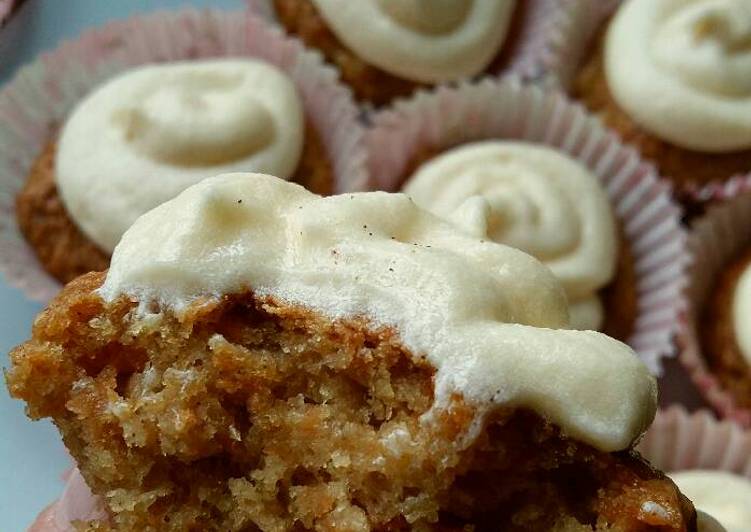 You can have Vickys Carrot Cake Cupcakes, GF DF EF SF NF using 21 ingredients and 10 steps. Here is how you cook that.
Ingredients of Vickys Carrot Cake Cupcakes, GF DF EF SF NF
It's 180 grams of gluten-free / plain flour (1 & 1/4 cups).
Prepare 1/4 tsp of xanthan gum if using gluten-free flour.
It's 1 tsp of baking soda / bicarbonate of soda.
It's 1/4 tsp of baking powder.
You need 3/4 tsp of ground cinnamon.
It's 1/4 tsp of ground nutmeg.
You need 150 grams of carrots, grated / shredded (1 medium-large carrot).
It's 200 grams of soft brown sugar.
Prepare 125 g of applesauce (1/2 cup).
You need 60 ml of melted coconut oil (1/4 cup).
You need 1 tsp of vanilla extract.
You need 2 tbsp of ground flaxseed mixed with 6 tbsp water.
You need 80 grams of sultanas, raisins, walnuts etc – optional.
You need of Simple Glaze Icing.
Prepare 115 grams of icing / powdered sugar.
It's 1 tbsp of warm water.
It's of Cream-Cheese Frosting.
Prepare 115 g of Violife brand cream cheese – GF SF Vegan brand.
It's 50 g of gold foil-wrapped Stork margarine.
Prepare 1 tsp of vanilla extract.
You need 125 g of icing sugar / powdered sugar.
Vickys Carrot Cake Cupcakes, GF DF EF SF NF step by step
Let the flax mixture stand for 10 minutes while you prepare the other ingredients.
Preheat the oven to gas 4 / 180C / 350F and line a 12 hole cupcake tin with paper cases.
Mix together the flour, baking powder, baking soda, cinnamon, nutmeg and xanthan gum if using.
Add the grated carrots to another bowl with the sugar, applesauce, oil and vanilla. Stir together, add the flax mix and stir again.
Mix the dry and wet ingredients together until just combined. The batter should be thick like a banana bread but gluten-free flour will need an extra tablespoon or 2 of water.
Fold in the sultanas / nuts if using then divide the batter evenly between the cupcake cases.
Bake for 20 – 22 minutes until golden, firm to the touch and risen. A skewer test will work to test the middle is cooked.
Let cool on a wire rack then glaze with a simple mixture of the powdered sugar mixed with the warm water, then sprinkle a pinch of cinnamon on top of each.
To make the more decadent cream cheese frosting, whisk the cream cheese and margarine together in a stand mixture to loosen, then add in the vanilla and sugar and whip until fluffy.
Spoon into a piping bag and swirl on.